Tune in to the Privacy Files Podcast.
Privacy is progress
Privacy will be the defining topic of this decade. We believe personal freedom hinges on safety and security, and this liberty is essential in our expanding digital world. We provide scalable mobile and desktop solutions that empower users to protect their private information.
The challenge
In today's world millions of consumers manage much of their lives online, requiring personally identifiable information at every turn. Consumers need access to these online conveniences while also protecting their personal information. Businesses need better ways of interacting with their customers without the risks associated with collecting their personal data.
The solution
To meet the challenges facing businesses and consumers, Anonyome Labs provides a platform that enables a next generation approach to security and privacy. A cornerstone of this platform includes limited disclosure digital identities, that we call "Sudos". Using and interacting with them reduces the amount of personally identifiable information (PII) needed to navigate today's digital world. Both consumers and businesses maintain everyday relationships, communications, commerce, and more without unnecessary PII disclosure or collection.
The platform is complete with all the components necessary to build secure and private market offerings. These scalable components include secure and private calling, messaging, video, browsing, purchasing, and more.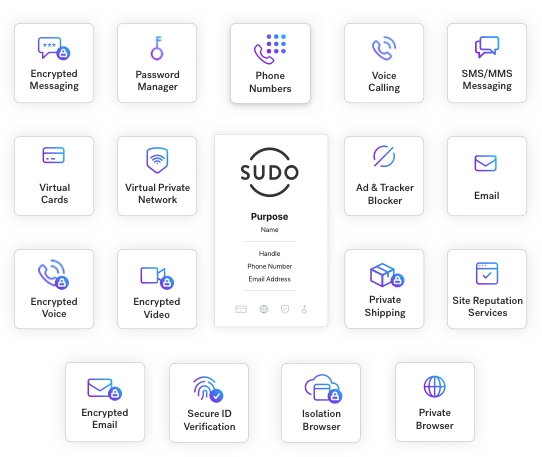 The Sudo Platform enables businesses to empower their users through privacy and cyber safety capabilities. We provide a variety of tools that can be rapidly integrated into B2C product and service offerings. To show how the platform can be used, we provide a reference consumer application called MySudo.
Sudo Platform
The Complete Privacy Toolkit
Sudo Platform is a set of easy-to-use privacy solutions that can be integrated into your existing and new products. Sudo Platform APIs and SDKs are quick to learn and simple to use.

"Can't live without it. I don't understand how I manage to survive without this app, it is absolutely indispensable."

"So easy! I thought this app was so easy to use and It's so awesome to have an avenue for creating a secure identity account! Good job! I would recommend!"

"Awesome!!! Easy to use and private! Win win!!!!"

"Should be in everyone's phone. I love this app! Mysudo is a must have in this age when all these companies are buying and selling out information."
Want to learn how to integrate our technology into your product stack?
Please contact us, we'd love to hear from you.